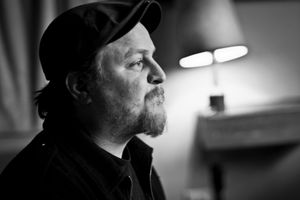 Melbourne Singer/Songwriter Van Walker has released his first new acoustic song in over 7 years - the instantly classic Happy Dogs. 
And with this fantastic new track he has once again created a sound both old and new. Happy Dogs hits your ears with a laconic familiarity that speaks to the heart with an effortless intimacy. 
"I wrote the song years ago on tour while on a brief stop at a friends farm for a few days, watching the farm dogs run free and just bursting with energy and love of life. All the philosophy in the world can't explain life like a dog can: chase it down and hump it silly: it's that easy." 
Happy Dogs features Aryo Hall on Tuba and was recorded during a marathon two day session with Dave Walker and Phil Georges from Green South Records which yielded 48 new recordings, the bulk of which was previously unrecorded new material. 
"My mother continued to suggest I record it. I'm rapt anyone's interested in any of my songs, so I'm more than pleased to oblige any repeated request. Plus, who doesn't love a good doggo?" 
This is the first of many 'new' songs Green South Records will be releasing on Van's behalf over the coming months and we can't wait! 
"Meeting Dave has been a huge boon for me, as a fellow artist and friend, he has been nothing but impressive, hard working and hands-on. Green South is the kind of label musicians dream of being apart of and to say I'm excited about working with them is an enormous understatement. I think regards my work, working with Dave and Phil, the best is yet to come." 
"Van Walker writes songs with the ease the rest of us breath." JB HiFi Magazine. 
MORE