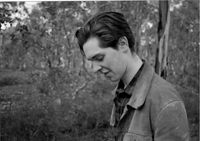 Young troubadour and old-time folk singer William Alexander, has joined the Green South Records team and we're thrilled to have him on board. 
William's old school ways are who he is, he plays the music that speaks to him and he sings with a passion and conviction that leaves you in no doubt you're listening to the real deal. 
His voice and guitar picking are evocative of folk music giants Woody Guthrie and Bob Dylan and his interpretations of classic folk songs are quite simply superb,  they are earnest and sublime. 
He travels light, just he and his Gibson acoustic, heading off from his home in the country to play concerts and festivals all over the land. 
William Alexander has been called many things in his short but full life, including titles such as the 'Gentleman of the Bush', 'The kid from Bourke' or 'Young William'. 
He is most at home when close to a river and surrounded by the plants and animals that bring life to this country.  
He has always had a love for history and knowing about what life was like back when people stashed all their savings in their bed mattresses instead of the banks. Like many musicians, music is a way that William can communicate his experience of life in song, though he often finds the words of others to be valuable for telling stories of love gone wrong, living on the road, and working in the sun.  
So for William, folk songs are the perfect coupling of his twin loves of history and story-telling song. If heart touching (breaking) tales from the Appalachian mountains interest you or the stories told through early Australian and American country music get your heart pumping, then perhaps William Alexander is your man.