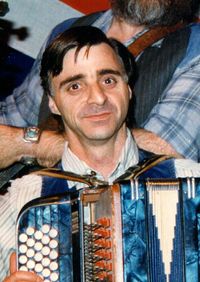 One of the beautiful things about being a musician is that when the inevitable happens and we pass away, a legacy is left behind.
And with his passing in 2006, Maity Swallow left us a legacy as rich as the deep chords he struck on his button accordion. 
 His skill on the instrument was legendary. His contribution to Folk music in this country is undeniable. And this week's Green South Reissue is a tribute to his playing and a testament to the legacy he left behind. 
The Maitland Swallow 'Journey' album was put together by his friend and musical colleague Louey Hesterman, featuring some tracks they recorded together and some selections from his 40 year body of work.
 He was the button accordion player in The Cobbers, the trailblazing, all conquering Aussie Folk band. He spent time with The Gunda Guys (Felix Meagher, Neil Quinlan, Maity Swallow and Louey Hesterman), The Free Selectors and Celtic Storm. He appeared on many albums and performed on stages across the world.
"He was absolutely fanatical about the accordion and spent hours every day playing it. In dressing rooms, motel rooms and even in the bus, he was always playing, trying new tunes or blasting dreamily away at the old favourites," said Cobbers bandmate John Armstrong.
The 13 tracks feature Maity front and centre, playing effortlessly through the tunes and changes, always supportive and always ready to swell the volume and take a solo.
"Maity consistently merged into the background on stage, just try finding him in a band photograph," Louey said. "This album drags him kicking and screaming onto centre stage for once."
This project was sponsored by the Upwey-Belgrave RSL Sub Branch and proceeds from the sale of the album will go the Maitland Swallow
Lake School
Scholarship Fund.
Read John Armstrong's tribute to Maity.