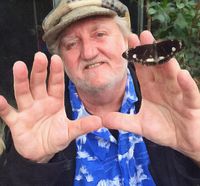 He has a warmth and kindness that endears him to everyone he meets. He is an accomplished multi-instrumentalist and singer and has composed hundreds of songs over the years.
Thirteen of these tracks are out now on his brand new CD, Heart and Soul.
The album showcases his songwriting talents and features a range of guest musicians along with his Whimsy band members Cora Browne, Christy Cooney, Cyril Moran and Ben Rogers.
Louey Hesterman's Whimsy is an autobiographical tale beginning in Echuca by the Murray River and travelling via Melbourne, Mildura and Vietnam to come to rest comfortably in Apollo Bay.
The musical story begins with classical piano lessons during childhood, and their influence still shines in some of Louey's instrumental compositions.
This calm beginning has since joined forces with folk music based around Louey's close friendships with musicians from this genre. In particular the Irish musicians have engendered a love of Celtic flavours which is reflected in his touching acoustic compositions.
Sadly his musical wandering was interrupted in the late 1960s by the darkness of the Vietnam War. Louey's experiences have had a profound effect on his life, and his sorrow and bewilderment are clearly apparent in the poignant songs he wrote and recorded in the 1970s.
But you can't keep a good man down and the fun of his folk family has been an irresistible restorative. The scene for Whimsy has been set, and the flights of fancy that include a voyage to the South Seas and a seemingly impossible mash-up of Celtic reels and surf rock suddenly make sense. 
Sort of!
The whimsical genie is well and truly out of the bottle and this album, Heart and Soul is only the beginning.