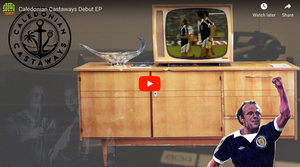 Caledonian Castaways, a veritable supergroup of ex-pats drawn from Melbourne's Blues/Roots scene have signed to Green South Records and we couldn't be happier! 
Featuring the talents of Steve Boyd on guitar and vocals, Alex Burns on pedal steel/harmonica and vocals, Tommy McEwan (drums/vocals), Stevie Montgomery (vocals), Stuart Ferguson (trumpet/vocals), Craig Kelly (bass) and Ken Howden on keys and accordion, their debut EP is now available at all your favourite digital places. 
Since their debut at The Lomond early in 2018, they've been hitting festival stages and taking audiences on a rollercoaster ride through their amusing and heartwarming stories, bringing to life some of the great Scottish characters like Archie Gemmill and Fat Boy Doyle and giving the definitive recipe for a Hot Toddy all in the one show. 
This is a fantastic debut EP from a seriously talented band. Each member brings their own flavour; the Cally's sound is a hybrid of ska, country, rocksteady, blues and funk topped with just the right blend of humour and pathos.