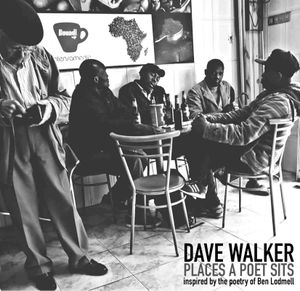 Places a Poet Sits, an EP inspired by the poetry of Ben Lodmell, is Dave Walker's first solo release in two years. 
It's a stripped back album, voice and guitar, each track recorded live with no overdubs. 
"The songs came about as a result of the amazing poetry of my old friend, Ben Lodmell," Dave said. 
"He had published a book of his work and had continued to create following the book. There were some amazing words in those poems and with his blessing and encouragement, I've turned four of them into this acoustic EP which I recorded in a couple of sessions with Phil Georges." 
"It's my first journey into a co-write of this nature and it has been a fantastic experience. Taking these beautiful poems and moulding them into a song at times felt a bit sacrilegious but we're both happy with the end result which is all that matters." 
Ben and Dave first met way back in 1989 in Colorado, and have been friends ever since. Ben, born and bred in the USA, now lives in Portugal, having made a life abroad, stints in Argentina and sojourns back to the US along the way. 
"He has always been a larger than life character for me, in every sense of the word," Dave said. "His life and experiences, coupled with his beautiful way of looking at the world has translated really well into song."